For other colors please contact us directly.
">
SCHOOL BAG - SHOULDER STRAPS Back
Bags: Pencils, Books & Office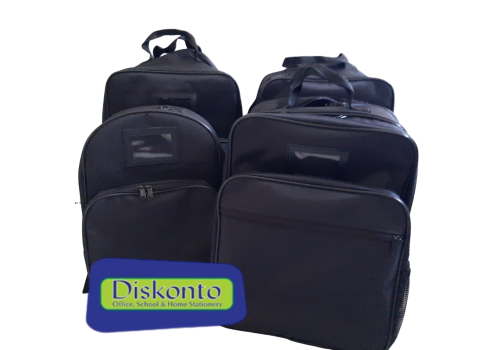 From R255.60
SCHOOL BAG - SHOULDER STRAPS
SKU:
Error!
Description
A durable, LOCALLY manufactured school bag.

Available in 4 sizes, from Grade R through to High School.

Strong, waterproof material.

Available in Black.

Manufacturer offers a ONE year guarantee on any manufacturing defects. Not on general wear and tear.

Gr R (350x250x90 )

G1 tot 4 ( 370x290x150 )

Gr4 tot 7 ( 420x290x200

An added feature is the front zipper section which doubles as a "cooler" bag.
For other colors please contact us directly.